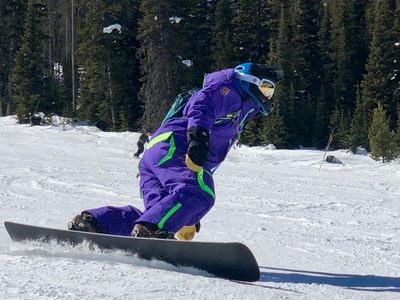 Schedule
2/9/20 Sunday

5-7pm Meet and Greet at Burger Express. Pick up Tickets (good for whole event).
2/10/20 Monday

8:30am - 10:00 Pick up Tickets at Lodge (card will be good for all days registered)
9-10am Poker Run Registration at Lodge
9:30am Lifts Open!
10-12ish Beginner Carver Clinic with Kathy (meet at lift)

Need to be comfortable on blue runs on soft boots, will focus on stance and alignment.

3:00pm All demos returned
4:00pm Lifts Close
5-8 pm Meet up at Switchback Bar and Grill (dinner and drinks, individual orders off menu.
2/11/20 Tuesday

8:30am - 10:00 Pick up Tickets at Lodge (card will be good for all days registered)
9-10am Poker Run Registration at Lodge
9:30am Lifts Open!
10-12ish Intermediate Clinic with Corey (meet at lift)
12:45ish Girls Only Run and Apres
3:00pm All demos returned
4:00pm Lifts Close
5-8 Meet up at TBD
2/12/20 Wednesday

8:30am - 10:00 Pick up Tickets at Lodge (card will be good for all days registered)
9:30am Lifts Open
10-12ish Beginner Clinic Part 2 with Kathy (meet at base)
12:30pm Group photo at base lodge
3:00pm All demos returned
4:00pm Lifts Close
Banquet at Turner Lodge
2/13/20 Thursday

8:30am - 10:00 Pick up Tickets at Lodge (card will be good for all days registered)
9:30am Lifts Open!
10-12ish Steeps Clinic with Corey (meet at base)
1:00pm Group Photo
3:00pm All demos returned
4:00pm Lifts Close